Delivery to air, rail & bus terminals
NYC's great terminals have two things in common, they are some of the largest, by traffic volume, in the world and they are serviced by MagsExpress.
Passenger traffic at these locations is mind-boggling and presents a rich opportunity for distribution. Each day, millions of people pass through their doors to commute, shop and eat. We service major retailers, newsstands (including Hudson News) and passenger lounges inside the terminals.
Millions more people pass outside NYC's rail and bus stations where our brand ambassadors can be put to work for you with hand-to-hand delivery of your materials or product samples.
Daily delivery, 365 days a year.
We give you the access you need both inside (retailers, specialty merchants & Hudson News) and outside (via brand ambassadors) to NYC's commuter terminals 365 days a year.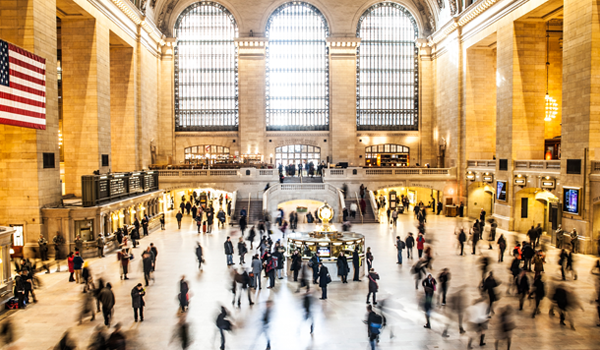 Grand Central Station
In the heart of Midtown, it hosts 750,000 visitors daily. During the holidays, that number surges to more than 1 million. GCS is served by Metro-North commuter rail, seven NYC Subway lines, 31 commuter and city bus routes and hosts buses to/from the area's three airports. Plus, it services a captive shopping audience of more than 326,000 workers from nearby office buildings.
In addition to retail opportunities, Grand Central Station presents one of the great hand-to-hand marketing or sampling opportunities. On average, 7,500 people an hour pass by the corner of 42nd Street and Vanderbilt Avenue, making it one of the busiest intersections in NYC.
Pennsylvania Station
More than 600,000 visitors daily commute, shop and eat at Penn Station which sits just beneath Madison Square Garden, one of the great sports and entertainment venues in the city, and occupies two city blocks between 7th and 8th Avenues, 31st and 33rd Streets.
Penn Station is the main intercity rail station, the confluence of Amtrak, the Long Island Railroad, NJ Transit and PATH trains and is a crossroads for 14 NYC Subway lines. Penn station is an ideal location for retail sales or sampling.
The Port Authority
The Port Authority Bus Terminal, at 625 8th Avenue, is the main gateway for interstate buses and commuter intercity routes. With 223 departure gates, The Port Authority serves more than 65 million visitors who annually commute, shop and dine inside the terminal.
The NYC Subway 
It has 469 stations and is the largest system in the world. Average weekday ridership is 5.7 million. Average weekend ridership is 5.9 million. Most area distributors long-ago abandoned retailer service within the Subway, but MagsExpress and its sister company National Distribution Alliance (NDA) make daily deliveries to retailers and newsstands in and near these vital commuter locations.
JFK, LaGuardia & Newark airports
Each year, NYC's three airports handle more than 53 million, 28 million and 35 million passengers respectively.
We make daily deliveries to retailers inside the terminals where passengers shop and dine before and after flights and service the airlines' passenger lounges.  We are TSA-approved.
Our brand ambassadors work for you.
Reach more than 500,000 people a day outside Grand Central Station, Pennsylvania Station, the Port Authority Bus Terminal, Rockefeller Plaza or one of hundreds of NYC Subway stations. Whether you're distributing publications, catalogs or product samples, we'll customize our street merchandising, including brand ambassadors' attire and scripts plus locations to meet your needs. Learn more.
If you need delivery inside or near any of NYC's commuter terminals, give us a call or request a quote.